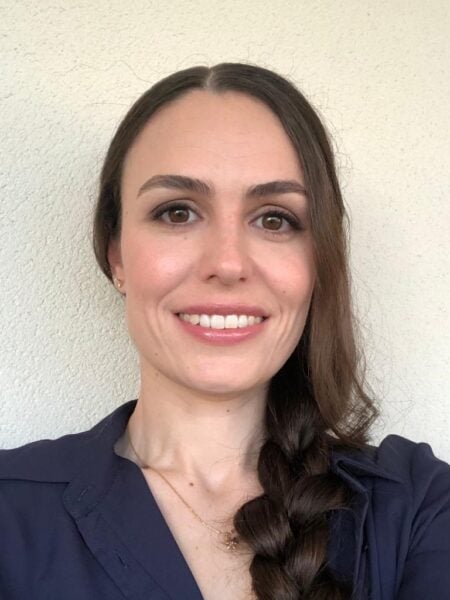 SPECIAL EXPERTISE IN
Lithiasic pathologies: diagnosis, follow-up and treatment of urinary tract lithiasis (kidney stones).
Oncologic pathologies: diagnosis, follow-up and treatment of oncologic pathology in penis, testicles, prostate, kidney and bladder.
Functional pathologies. Diagnosis, follow-up and treatment of:

Benign prostatic hyperplasia (BPH)
Urinary incontinence
Urethral stenosis
Pelvic organ prolapse
Recurring urinary tract infections (RUTI)

Andrology:

Erectile dysfunction (ED)
Premature Ejaculation
Low Testosterone
Vasectomy intervention

Sexually Transmitted Infections (STI)
PROFILE
Dr Gema Romeu is a Urologist at Hospital de Manises where she works at the Functional, Andrology and Lithiasis Urology Unit.
She completed her residency program at the prestigious La Fe University Hospital, and complemented her training at the Andrology Unit of the University College Hospital (UCH), London (UK). She graduated Medical School from the University of Valencia.
She is a PhD candidate, and currently basing her research in the field of Litiasis
Apart from her work at the hospital, she also practices privately in her clinic at Plaza del Ayuntamiento 19.
LANGUAGES
English and Spanish.
AVAILABLE CLINIC TIMES
Monday to Friday afternoon.
FEES
Initial appointment 60€
Follow-up appointment 50€
Ultrasound of the testicles 50€
Urological Ultrasound scan 50€
Procedures – check with us please.
Vasectomy 600€
Circumcision 600€
Frenulectomy 300€