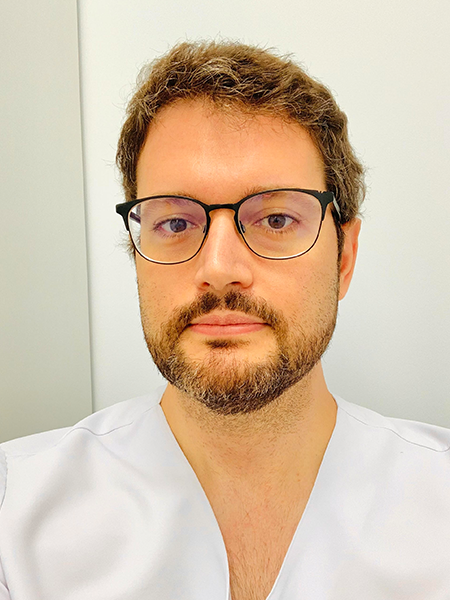 SPECIAL EXPERTISE IN
Kidney stones (urinary tract lithiasis)
Lithiasic surgery (Kidney stone surgery)
Urinary Tract Infections (UTI): Bladder infections, Urethritis, Recurring urinary tract infections, (RUTI), Prostatitis, STI / STD
Prostate: Benign prostatic hyperplasia (BPH)
Urinary incontinence
Erectile dysfunction (ED)
Urinary tract and kidney ultrasound
Testicular ultrasound
PROFILE
Dr Guzmán Ordaz is a Urologist at the prestigious La Fe University Hospital, where he works in the Lithiasis Unit (Kidney stone Unit).
He completed his residency program at La Fe University Hospital. He graduated Medical School from the University of Valencia, has completed 4 Masters in Statistics, he is finalising is PhD in Medicine at the University of Valencia. He is Board Certified by the European Board or Urology. He has published numerous peer reviewed scientific papers.
He is a leading expert in the management of lithiasis (kidney stones) and lithiasis surgery, as well as urinary infections, and benign prostatic hyperplasia.
Apart from his work at the hospital, he also practices privately in his clinic at Plaza del Ayuntamiento 19.
LANGUAGES
English, French and Spanish.
AVAILABLE CLINIC TIMES
Tuesday afternoons
FEES
Urology appointment 80€
Initial urology appointment + Ultrasound 100€
Urinary tract and kidneys ultrasound scan 60€
Ultrasound of the testicles 60€
Vasectomy 600€
Circumcision 600€
Frenulectomy 300€
Urinary stones surgery
Kidney stone removal
Flexible ureterorenoscopy
Trans-urethral resection of bladder
Trans-urethral resection of prostate
Urinary incontinence surgery
Bladder instillation
Hydrocelectomy
Urethral stenosis